lthough the purpose of this website is to document calabooses in Texas, I think it is important to show examples from other states.  Some of those depicted below are most interesting and worth a visit to the calaboose enthusiast like me.
ALABAMA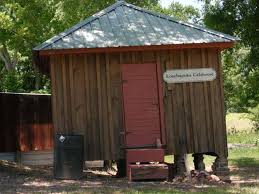 Loachapoka (Lee County)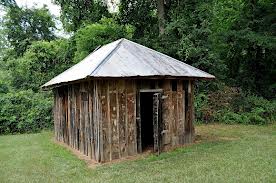 Thomastan (Marengo County)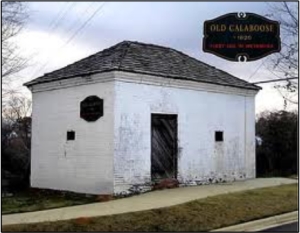 Wetmunka (Elmore County)
ARIZONA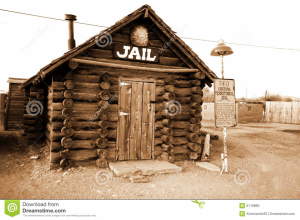 town not known at this time
ARKANSAS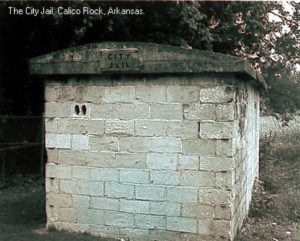 Calico Rock (Izard County)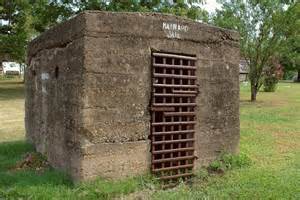 Maynard (Randolph County)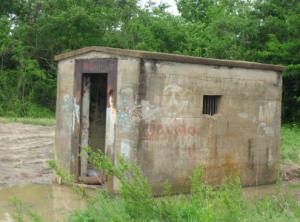 Reyno (Randolph County)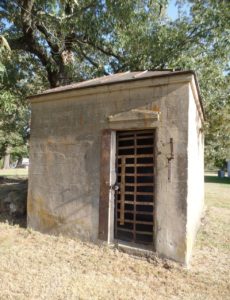 Winthrop (Little River County)
COLORADO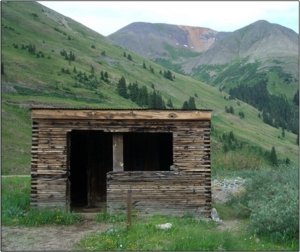 Animas Forks (San Juan County)
This calaboose is about twelve miles from Silverton at an elevation of 11,584 feet.  This was a mining community that began operation in 1877 and extracted galena and copper.  At one time there were between five and seven mines surrounding the town.  The original town boasted several stores, a hotel, saloons, two assay offices, shops, and many other buildings.  Mining towns often attracted people of dubious character and it is not surprising that a calaboose was needed.  One of the local stories recalls that the famous prize fighter Jack Dempsey spent a night in this calaboose.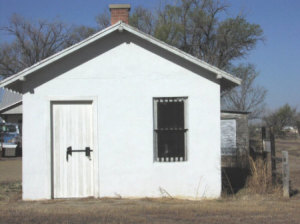 Haswell (Kiowa County)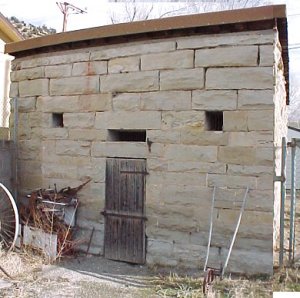 New Castle (Garfield County)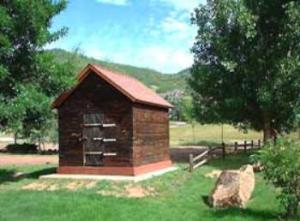 Palmer Lake (El Paso County)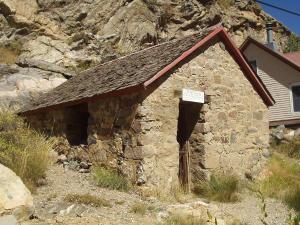 Silver Plume (Clear Creek County)
GEORGIA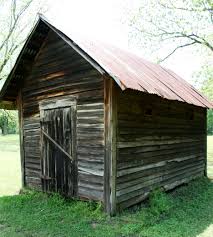 Henry County (town not known)
ILLINOIS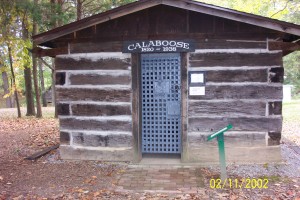 Mount Vernon (Jefferson County)
INDIANA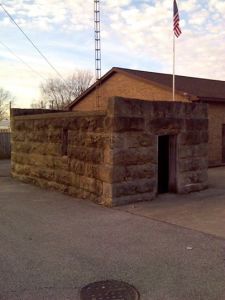 Birdseye (Dubois County)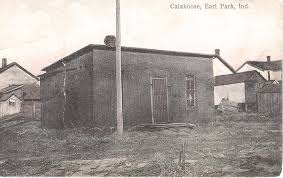 Earl Park (Benton County)
This historic photo is used here with permission from ____________.
IOWA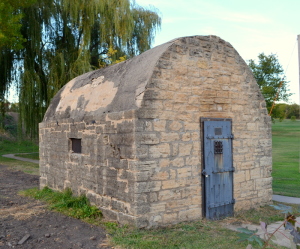 Delmar (Clinton County)
 The Town of Delmar owns this very unique calaboose that is located on Vane Street in the downtown area. According to the National Register of Historic Places Inventory Nomination Form prepared by Architectural Historian Ralph Christian in 1980 (on file at the office of the State Historic Preservation Officer (SHPO) in Clinton, Iowa), the Delmar calaboose was the town's oldest extant public building at the time. It is described as a unique example of local vernacular architecture. The primary reason for the construction of this calaboose is rooted in problems associated with a flourishing liquor trade such as dealers buying and selling without a license. This building was constructed by A. T. Phillips for a fee of $175, and it was ready for occupancy in early October of 1878. The vaulted roof is considered it most noteworthy exterior feature as it "heightens the effect of the coursed stone walls and gives the entire edifice a strong sense of impregnability. This sense is "heightened by narrow window slits with grated openings on the east and west sides and a heavy cast iron door with strap hinges and grated opening on the front…"
The roof is covered with cement except for a small opening near the center of the north end where a small brick-lined opening holds a metal pipe that allowed smoke to escape from the wood burning stove inside. The one room is "sheathed in plaster and devoid of ornamentation." This jail was used well into the 20th century, and furnishings on the inside (stove, folding cot, bureau, table, and chair) are the only items that appear to be of early 20th century vintage. The town is considering demolition of this very significant historic building. The photo, and others on file at the office of the SHPO were taken by Marty Bowers in February of 1980.
KANSAS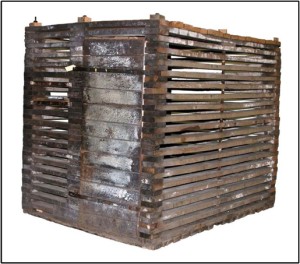 Burlingame (Osage County)
(Photo and text courtesy of the Kansas State Historical Society)
"Jails were symbols of order and accordance to the law. After statehood, law enforcement became more organized.  As cities and counties began to punish their criminals, officials found they lacked a method of retaining them. Building a jail was the obvious answer, but funds and materials were limited. As a result, city and county jails tended to be small, with space to house from one to three people, and made from materials that were easily available, such as stone or wood. Rooms in private homes or public buildings also served as early cells.
In 1866, the residents of Burlingame, Kansas, found themselves in need of a jail. A convicted murderer named Bates had escaped from a jail in Johnson County and appeared at the farm of A. M. Jarbo near Burlingame. He was looking for work and the farmer allowed him to stay. Later that night Jarbo discovered Bates stealing valuables and took him to the deputy sheriff in town. Because there was no jail, the deputy shackled him, but Bates grabbed the deputy's gun and shot him. Bates escaped capture for a second time. He was soon found, tried, and hanged for his crimes.
The town constructed two identical jails sometime after this incident. The jail shown here was donated to the Kansas Museum of History by the City of Burlingame in 1954. It is made of wooden planks and measures six feet by eight feet. While it is not known whether the jail was used indoors or outdoors at the time of construction, it was later used inside city hall until the 1950s. The jail's primary function was to house drunken revelers on a Saturday night. Early Sunday morning, the detainees were hosed off and sent home.
Ironically, one of the town's jails itself was the victim of a crime. Burlingame citizens used the jail in 1954 as part of a Kansas Territory centennial celebration. Early one morning, the building disappeared and was later discovered in Mission, Kansas. Some residents believed the jail was stolen as part of a publicity stunt. The mystery was never solved, and the perpetrator avoided spending the night in lock-up."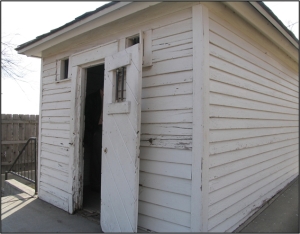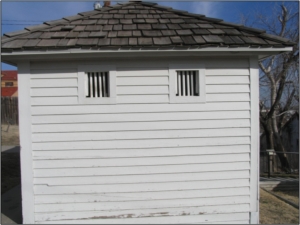 Fort Dodge (Ford County)
This interesting calaboose is located at the Boot Hill Museum in Fort Dodge, Kansas.  It was built around 1865 and used to house prisoners at the fort until its closure in the 1870s.  Confinement in this jail was not a pleasant place to be. Soldiers were often confined in this small structure for weeks at a time.  It was certainly miserably cold in the winter but probably even worse in the stifling heat of the summer.  The only ventilation and source of light for the prisoners was the four small windows and the opening in the door.  The floor was dirt and there were no sanitary facilities.  The interior consists of ____ cells.  This building was the army's equivalent to the county jail and was mainly used as a holding area for soldiers convicted of petty crimes.  These small military jails were often referred to as a "guardhouse."  The larger jails on the bigger posts were known as stockades.  This photograph was provided courtesy of the Boot Hill Museum.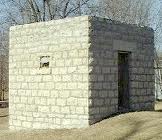 Wetmore (Nemaha County)
LOUISIANA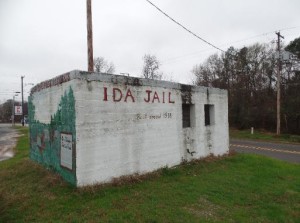 Ida (Caddo Parish)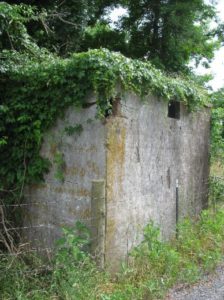 Mayers (Bossier Parish
MISSISSIPPI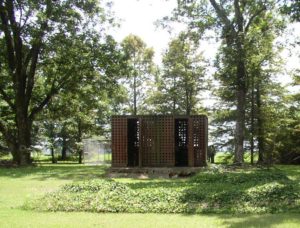 Clarksdale  (Coahoma County)
MISSOURI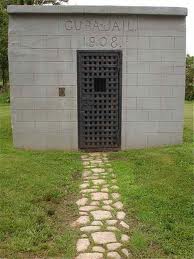 Cuba (Crawford County)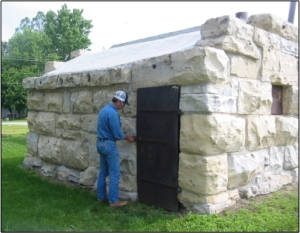 Elsberry (Lincoln County)
After a fire destroyed the first calaboose in Elsberry, the town council decided that a fireproof building was needed and commissioned a local stonemason, using limestone from a nearby quarry, to build a second calaboose circa 1896.  The stones were hauled to town on a sled pulled by oxen.  They are rather large, measuring 36 inches in length, 17 inches in width, and 17 inches in depth. The overall measurements of the building are 15 feet in length, 11 feet in width, 10 feet in height on the sides, and 14 feet in height at the apex of the ends. The building has one large cell on the north side and was heated by a stove (soot still coats the ceiling) that stood in a small walkway. In the fall of 1992 the Junior Elsberry Community Betterment Association began to work to rehab the interior.  A local welder put the old cell bars back into the wall and a potbellied stove was added to the interior. In 2007, the city funded a restoration project to repair the crumbling exterior of the old calaboose. It is owned by the city and located in the downtown area at the corner of North Second and Dubois streets and it is open to visitors. There is another Missouri calaboose in the town of Arrow Rock.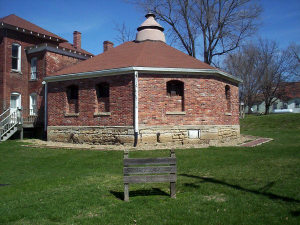 Gallatin (Daviess County)
This structure was named rotary jail and does not fit the description of a calaboose.  It is included here because of its unusual design.  The rotary jail was an architectural design for some prisons in the Midwest of the United States during the late 19th century. Cells in the jails were arranged so that they rotated in a carousel fashion; allowing only one cell at a time to be accessible from the single opening per level.  William H. Brown was the initial designer the jails were built by the Haugh, Ketcham & Co. iron foundry in the Indianapolis, Indiana neighborhood of Haughville.
The application for United States Patent No. 244,358, on July 12, 1881 has this description:
The object of our inventions is to produce a jail in which prisoners can be controlled without the necessity of personal contact between them and the jailer or guard… it consists, first, of a circular cell structure of considerable size (inside the usual prison building) divided into several cells capable of being rotated, surrounded by a grating in close proximity thereto, which has only such number of openings (usually one) as is necessary for the convenient handling of prisoners..
The pie-shaped cells rotated around a core having a sanitary plumbing system, which was considered an unusual luxury at that time. The cell block could be rotated by a single man hand-rotating a crank. It was connected to gears beneath the structure which rotated the entire cell block. The structure was supported by a ball bearing surface to allow for smooth rotation.
The jails encountered problems almost immediately with inmates' limbs being crushed or interfering with the cellblock's rotation. Most of the jails had to be welded in a fixed position and refitted with individual cell accesses. All of them were condemned by June 22nd, 1939.
Sources vary as to how many rotary jails had been built. The cited number varies from six to eighteen.  Rotary jails are known to have been constructed in Crawfordsville, Indiana (only one to still operate, Council Bluffs, Iowa, Gallatin, Missouri, and Sherman, Texas.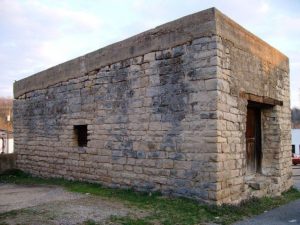 Gainesville (Ozark County)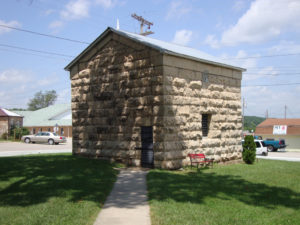 Hermitage (Hickory County)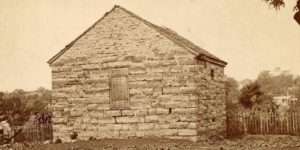 Liberty (Clay County)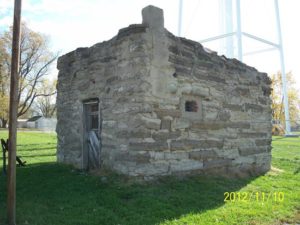 Polo (Caldwell County)
OKLAHOMA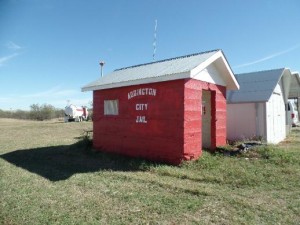 Addington (Jefferson County)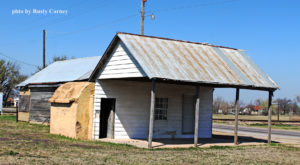 Amber (Grady County)
This photo illustrates a most unusual building that has bars in the window.  It was provided courtesy of Rusty Carney.
WAITING FOR PICTURE
Avant (Osage County)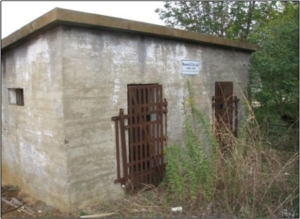 Boswell (Choctaw County)
WAITING FOR PICTURE
Butler (Custer County)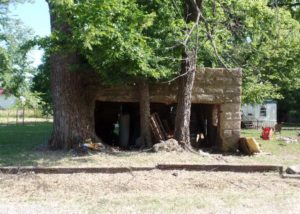 Bennington (Bryan County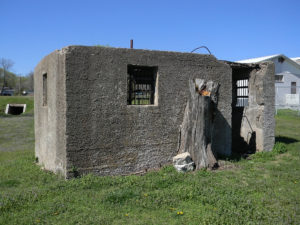 Burbank (Osage County)
WAITING FOR PICTURE
Carrier (Garfield County)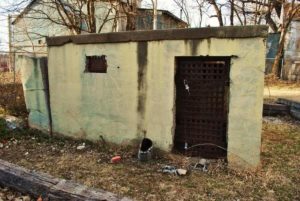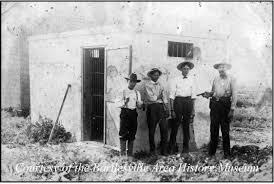 Dewey (Washington County)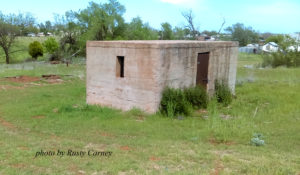 Eakly (Caddo County)
This photo was provided courtesy of Rusty Carney.
Elmore City (Garvin County)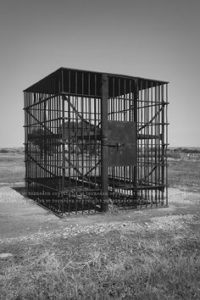 Foss (Washita County)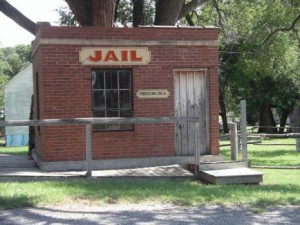 Freedom (Woods County)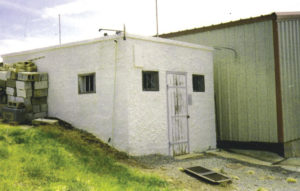 Hydro (Blaine and Caddo Counties)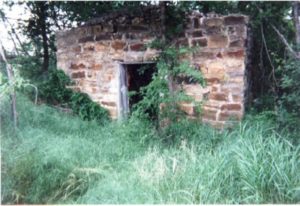 Keota (Haskell County)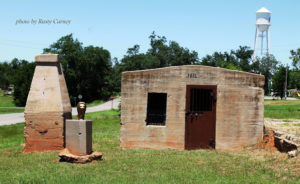 Leedey (Dewey County)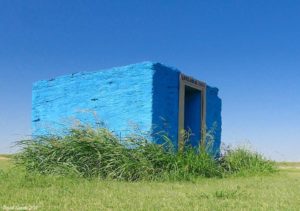 Love Land (Tillman County)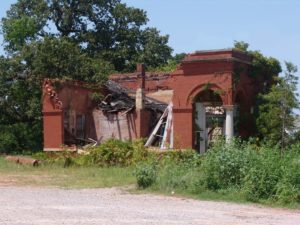 Macomb (Pottawatomie)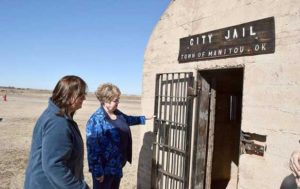 Manitou (Tillman County)
WAITING FOR PICTURE
Ripley (Payne County)
WAITING FOR PICTURE
Ryan (Jefferson County)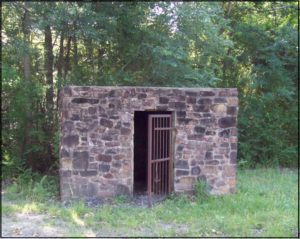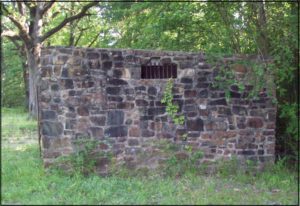 Smithville (McCurtain County)
WAITING FOR PICTURE
Stuart (Hughes County)
WAITING FOR PICTURE
Terlton (Pawnee County)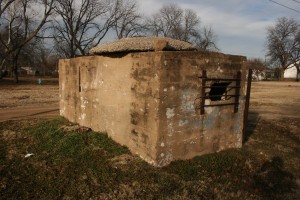 Terral (Jefferson County)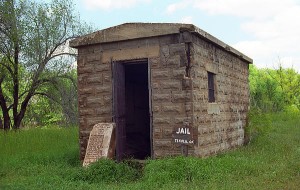 Texola (Beckham County)
According to Wikipedia, this "territorial jail" was built in 1910.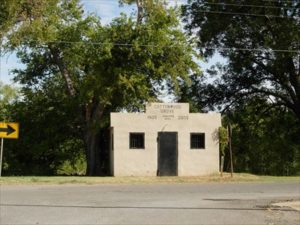 Verden (Grady County)
At the north end of town, on North Boundary Street stands a one-story concrete building which served as the jail. Painted on the front of the building is "COTTONWOOD GROVE VERDEN JAIL 1905 – 2005." This building has two jail cells. As you enter the front barred door, to the right is a small room with a heating unit. To the left, a rudimentary lavatory has a sink on the wall and a toilet. At the back of the building, are two cells. One cell still contains a flat metal bed; the other cell is empty. The building has two small barred windows on each side. The facade has a stepped parapet above the flat concrete roof.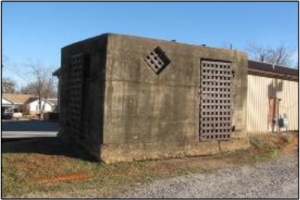 Washington (McClain County)
Photo courtesy of Red River Historian

Wayne (McClain County)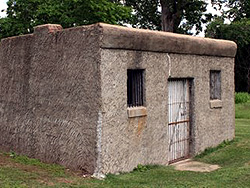 Webbers Falls (Muskogee County)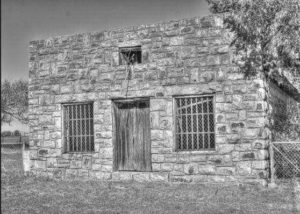 Unknown Town
TENNESSEE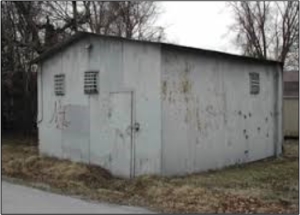 Rockwood (Roane County)